Another Reason Google Filters Reviews
Google is now allowing Google Plus users to look at the reviews they've written to see which reviews (if any) are being filtered from public view. You cannot see reviews that are being filtered by people who have written reviews for your business, but you can see the reviews that you've written for other businesses that are being filtered.
If you think one of your customers wrote a review for you, there is only one way to know for sure. You must ask them to go to their personal Google Plus page and see if Google filtered their review. You cannot see filtered reviews written by your customers, but your customers can quickly see if Google filtered their review.
As it turns out, three of my reviews were filtered. Here's what I did to make them publicly viewable.
The first example is a review I wrote for Sacred Gardens of Maliko. Google filtered this review because I misspelled the name of the business. I wrote "Sacred Garder" rather than "Sacred Garden". Once I corrected the spelling, my review became immediately public.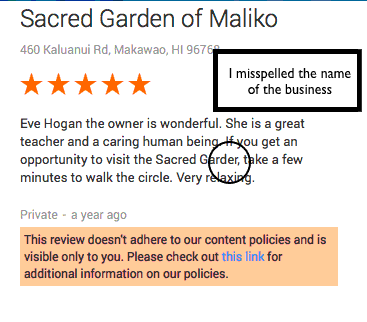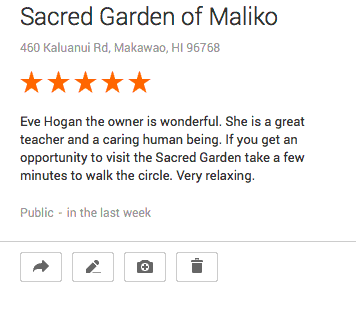 The next example was for the owner of a landscaping company. I did multiple things on this review that caused Google to place me in time-out. I not only provided contact information which included a physical address and telephone number, but I also added a link to one of my websites. Once that information was removed, my review became immediately public.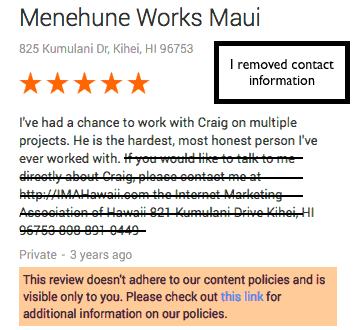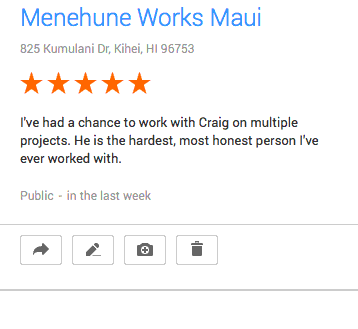 The third example required some head scratching. As it turns out, Google does not like to see punctuation that's not normal … and by normal I mean three dots in a row. Once I changed the punctuation … you guessed it … my review immediately became public.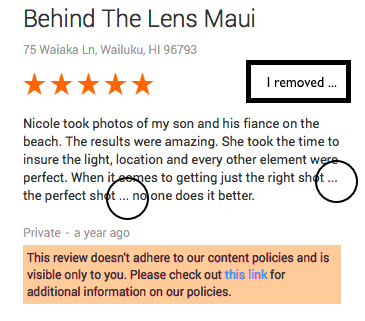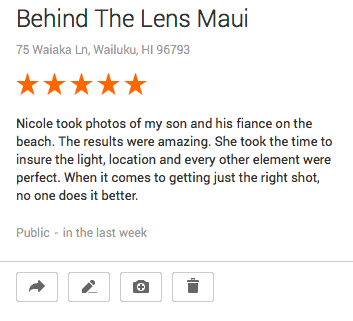 Now you're probably thinking, "Hey Bob, Google is telling you to visit a link that shows you what's wrong. Why didn't you just go there to see what the problem was instead of trying to figure this out on your own?" Well, I'm one step ahead of you.  As it turns out … surprise, surprise … the link was not very helpful. Check out "this link" and see for yourself.
A Little About Bob The Reviewer
I write a lot of reviews — 67 on just Google
I don't write fake reviews for anyone for any reason – Ever!
I only review businesses where I've been a customer and I clearly identify my role in my review. Here's what Google says about this. "Don't post reviews on behalf of others or misrepresent your identity or affiliation with the place you are reviewing."
I don't write bad reviews because I know how devastating they can be to a business. Don't hate on me for not hating on others.
I write 5-star reviews to reward the people and companies that provide exceptional service — Period!
I know more about the review process on Google than most people and Google still filters my reviews. So if Google is filtering the reviews of someone who does this everyday, what do you think they're doing to someone who has never written a review before. Truth is, Google is much better at letting reviews get published publicly now they were back in 2013-2014
Lesson #1:  Google does not suffer fools
Bad Or Excessive Punctuation
Shows Contact Information
Identical Review On Another Website
So What Can You Do About Filtered Reviews?
You can contact your customer who has written a review for you and ask them to edit their review so that it shows up.
You can educate your customers about how Google filters reviews before they write a review for you?
You can show appreciation and leave well enough alone?
Personally, unless the reviewer is your very best friend, I would ignore it and move on. Yes, reviews do get filtered, but trying to tell everyone how to write a review is silly.