How To Ask For A Google Review Script
This script (in blue) has been tested and proven to be the most effective way to generate Google reviews and referrals with the Five Star Review System. It's short and easy to remember. Don't try to memorize the script word for word. Just take a moment to understand the flow and reasoning behind your request and then make it your own.
The audio recording will help you understand the psychology of a review request and give you the tools you need to get outstanding results.
Note: The example used in this audio was for the medical industry. You can adapt the principles taught to your industry by simply substituting "Customer" or "Client" for "Patient".
Later today or tonight or whenever you get a chance, would you mind taking a few minutes to write a review for us on Google?
(Optional) The reason I ask is because when you do, it helps others learn about our business through your experience with us.)
In order to make this as easy as possible, I'd like to send you an email (before you go) with a link in it to where you can write your review, and I want you to know that we're all really looking forward to reading your comments. Thank you.
At this point, you'll walk your customer over to your computer, iPad or mobile phone and fill out the Review Request Form in front of them. If your customer is not engaged with you when you fill out the form, they are much less likely to write a review. Sending the request while your customer is with you will increase the number of Google reviews you'll receive by 400%. It's the single most important thing you can do to get Google reviews.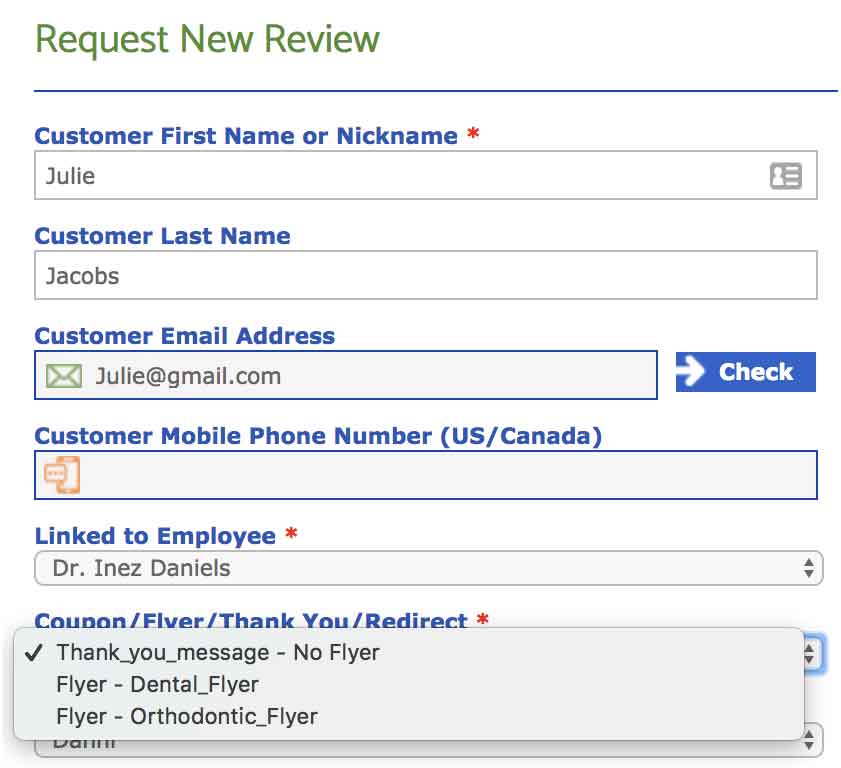 You can save time by filling out as much of the information as possible before you ask your customer to write a review. This can include their First Name, Last Name and Email Address.
Once you get their email address, you have the option of sending your customer the request by text also. Do not send the request by text unless your customer gives you verbal permission to do so. You always want to send an email or an email and a text but only when the customer indicates that they would like it sent by text too.
The least effective way to get Google reviews is to send the request by text message only. (The audio above explains why that's the case.)
If you'd like, I can send the request to you by text too. Would you like for me to do that?
If they say "yes," go ahead and add their text number to the Request Review form. If you don't ask or if they say "no," do not send them a text message. Sending a text review request when your customer has not given you permission to do so will hurt your ability to get Google reviews and upset some of your customers.
At this point, you have an opportunity to generate referrals from the Coupon/Flyer/Thank you/Redirect feature. If you feel your customer is a good referral source, you can ask them the following question and then select the appropriate coupon or flyer from the form field.
If it's OK, I'd like to send along a digital flyer about our business and ask if you wouldn't mind sharing it with your family and friends that may be interested in our service. May I sent it along?
Depending on their answer you will either select the default "thank you message" or the appropriate coupon or flyer from the drop down menu. Then you will click on the Submit Request button and send them the request while they are watching. It's that easy.
Note: If you don't ask or if they say "no" to your request, do not send the flyer. It will be considered spam and your customer will not share it.
The entire process should not take more than 2 minutes when you first start using the system and once you're familiar with it, you'll be able to accomplish this task in less than a minute.
My Strong Recommendation:
If you've not listened to the audio yet, please do so now. It will explain WHY verbally asking for a review and engaging with your customer when you send the review request is so effective and important to your success.
And finally, if you liked the article and you think your friends can benefit from it, will you please share it on one of the social networking sites below? Thank you.