My Facebook Link Doesn't Work On iPhones. How Do I Fix It?
Even the biggest and most popular devices and applications sometimes have trouble working together. This time it happens to be Facebook and Apple. We've discovered that certain combinations of iPhones and the Facebook application don't play well together and may break links taking users to your Facebook review page. Fortunately we have a fix!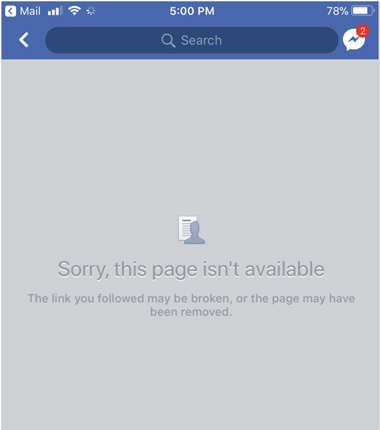 Without a "Vanity URL" some customers using iPhones may see this screen when they click on your Facebook review page link.
In order to allow your customers to link directly to your Facebook review page and review you on all devices including Apple iPhones, you need a "vanity" URL.
Do you have a Facebook Vanity URL?
You can quickly determine if you have a vanity url by going to your facebook page and looking at the address bar. If you see numbers in the address bar (shown below), you DO NOT have a vanity URL and you'll need to create one in order for Apple iPhone users to access your Facebook page and write a review for you.

The example below shows a vanity URL. Notice that there are no numbers after the company name and the vanity name is "SappingtonPainters." This link will work on iPhones.

Do you have a Facebook Vanity URL?
In order to create your vanity URL, you'll need to sign into your Business Facebook page and click on the "About" link.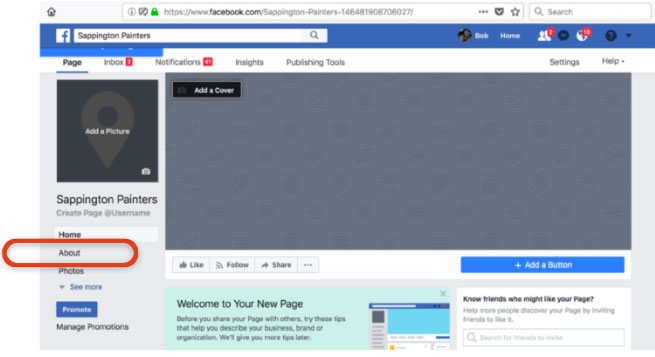 Once there, scroll down until you see "General" settings. Below that you'll find "Create Page @username". Click on the "Create Page @username" link and a pop-up box will appear asking you to type in a vanity URL that represents your business.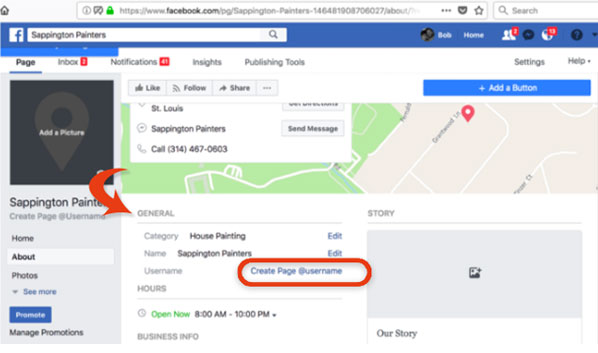 The pop-up box will look like this.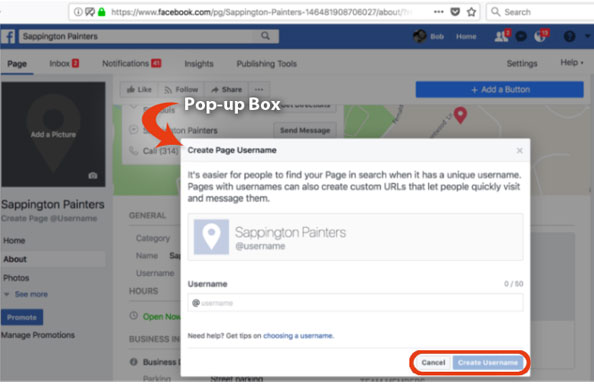 We selected the name "SappingtonPainters" all one word capitalizing the S and P in the name so that it stands out without spaces between the words as required by Facebook. Do the same with your business name.
Enter the name you would like to use and if it's available, a green check mark will appear next to it. Once you have a name entered, click on the "Create Username" button at the bottom right of the box.
Your Username should now look like this.

Now that you've created a vanity URL for your Facebook page, Apple iPhone users will be able to write a review for you on Facebook.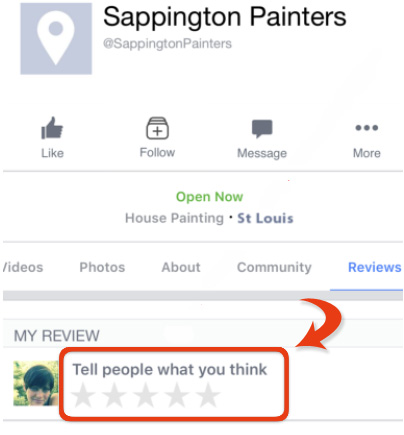 How do I get my new Facebook review link into my Best Local Reviews System?
Copy your new Facebook Vanity URL.
It should look like this:
https://Facebook.com/pg/SappingtonPainters/reviews
(Don't copy anything after the word "reviews")
Go to BestLocalReviews.com and sign in.
Go to System Settings > Review Website Settings where you'll see your Facebook link.
Click on Facebook to load the URL which you will see at the top of the page in the "Review Site URL" field. Remove the old URL and paste your new "Vanity" URL in its place.
Make sure that the last word in the URL string is "reviews". Then click "Save Review Site".